Our plant-based sensations
Product Range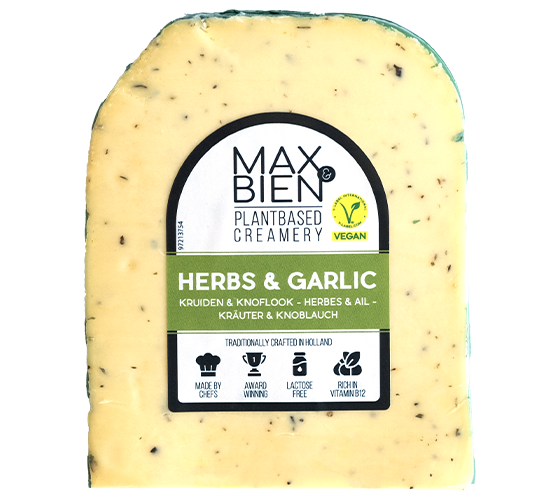 Our plant-based sensations
Product Range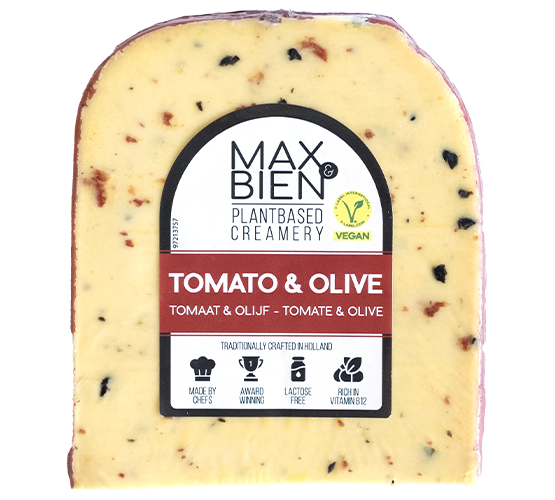 Our plant-based sensations
Product Range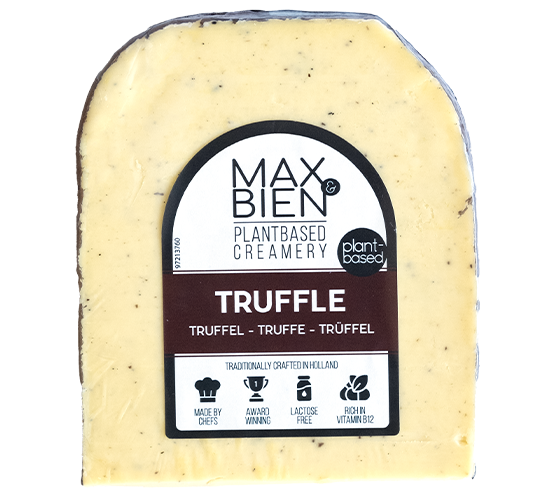 Discover the award-winning vegan cheeses from Max&Bien, made in Amsterdam. 100% plant-based, 100% irresistible! Made with passion and craftsmanship by true cheese-lovers.
Testimonials
I am absolutely in love with this vegan cheese! The garlic one and the truffle one are my favourites so far! Can't wait to try more! Highly recommended!
Oleksandra Shevchenko – Local Guide
★★★★★
Super tasty cheese, I'm not vegetarian but you don't have to. Flavors are very good, actually everything
is tasty!
Marloes Damstra
★★★★★
THE best vegan cheese out there!
A must try for all vegans and people with lactose intolerance that miss cheese.
Ria – Local Guide
★★★★★
I have to give 5 stars because they are currently the best in the Netherlands when it comes to vegan cheeses. I had a delicious cheese board from them with matching wine. All of them cool vegan cheeses, I would like to see some competition on this.
Orly Vlot
★★★★★
The Truffle cheese is by far our favourite, I thoroughly recommend it, since becoming lactose intolerant as an adult I never expected to be enjoying lovely cheeses again, but now it is possible and they are absolutely delicious with high quality at good value  🙏🏼👍🏼
Robert Molloy
★★★★★
Never eaten such delicious and good vegan cheese.
I'm excited!
Anna Hegeler – Local Guide
★★★★★
I was so surprised by Max & Bien's cheeses.
Nice and creamy, full flavours, perfect for a cheese dish or to eat every day. I hope more flavors will follow!
Christine Lamot
★★★★★
Super tasty, really an invention for when you can't eat cheese or don't want to eat animal products. In my opinion the best cheese substitute 😍😋
Romy Boonstra
★★★★★
Frequently Asked Questions
How long does plant-based cheese remain fresh?
On average, our pre-packed vegan cheese stays fresh for three months, but it should be consumed within a few days of opening. Max&Bien cheese should be kept refrigerated and in an airtight container to prevent it from drying out.
What is the best way to store the cheese?
Just as with non-vegan cheese, our plant-based cheese should be kept in the fridge. Store it in an airtight container to prevent it from drying out. We advise against putting it in the freezer – and let's be honest, our cheese is so tasty that you'll want to eat it immediately!
What is Max&Bien plant-based cheese made from?
All our products are 100% plant-based, which means they contain no ingredients derived from animals. We apply traditional cheese-making methods to ingredients such as potato starch. Our focus on using local ingredients results in various sustainability gains, including lower carbon emissions, reduced water consumption and less food waste thanks to a longer shelf life.
Want to know more about all the ingredients? Take a look at our product range and check out the list of ingredients for each product.
Is there a risk that once I've tasted your vegan cheese, I'll never want to go back to eating 'traditional' cheese again?
Based on the feedback from many cheese-lovers, we have indeed heard that there's a chance you might end up hooked. But there's only one way to find out – and that's to try it for yourself!
At what temperature should Max&Bien cheese be served?
Our 100% plant-based cheese is at its most delicious when served chilled.
Where can I find serving suggestions for Max&Bien cheese?
Our cheeses are a welcome addition to any cheese board, but there are lots of other ways to use vegan cheese – such as grated onto a pizza or bowl of pasta, crumbled into a salad or sliced in a sandwich or croissant. If you're looking for more inspiration, check out our inpiring recipe ideas featuring vegan cheese.
Is Max&Bien a certified organic producer?
We don't have organic certification for our products just yet, but we're working hard to make this possible in the future. To be kept updated about the latest developments, sign up for our newsletter or follow us on social media!
I've heard that your vegan cheese is addictive. Is there a support group I can turn to?
So far, everyone has managed to stick to the RDAC (Recommended Dietary Allowance for Cheese)! But don't worry: we'll be there for you if you need us! 😉
Is vegan cheese uncommon?
Yes! In the Netherlands, standard cheese is never vegan because cheese is traditionally made by curdling milk to separate the solids (curd) from the liquids (whey). A lot of cheeses aren't even vegetarian, as the curdling process is usually triggered using an enzyme from the stomach lining of slaughtered young cattle, such as calves.
Is your cheese only aimed at vegans?
Definitely not! We want to inspire people to eat plant-based food more often, which is why we have created our delicious cheese alternatives. Nevertheless, we have kept vegans in mind; we boost the nutritional value of all our cheeses by adding vitamin B12, which is lacking in a fully plant-based diet.
Is Max&Bien vegan cheese gluten-free and lactose-free?
Yes! Our non-dairy cheese contains neither lactose nor gluten.