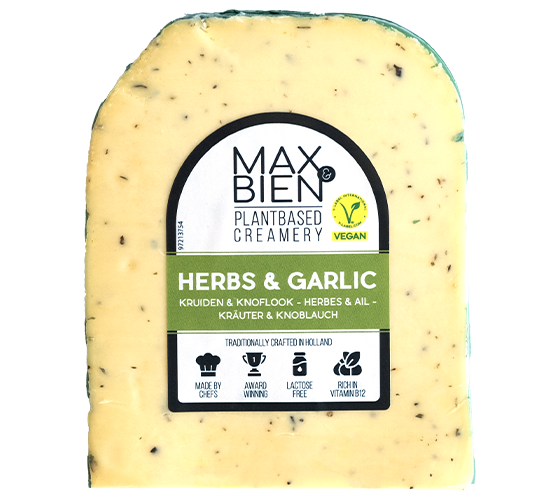 Herbs &
Garlic
You simply have to try this: irresistible vegan cheese with French herbs and a hint of garlic! Flavoursome, aromatic and mouth-wateringly good – ideal for the cheese board.
This is one of the very best vegan cheeses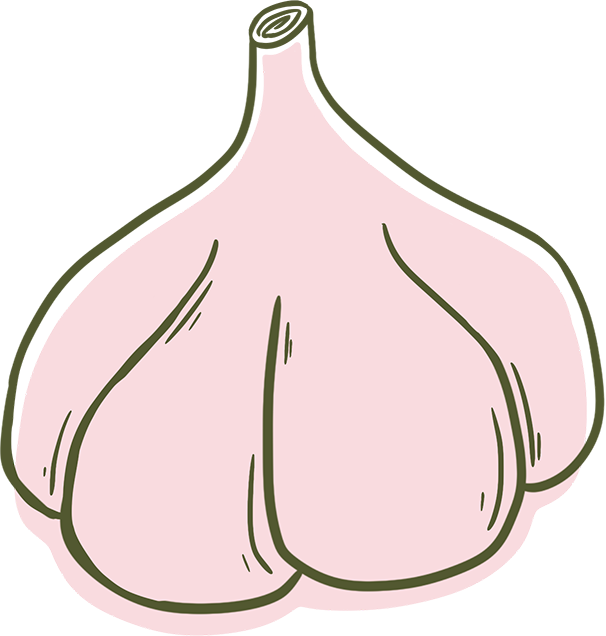 This is one of the very best vegan cheeses: 'Herbs & Garlic' from Max&Bien with French herbs and garlic. It is flavoursome, aromatic and mouth-wateringly good. Thanks to the ripening process, all the flavours have plenty of time to develop. It's the perfect appetizer to accompany a tasty craft ale. Try it for yourself!
Did you know… this plant-based cheese is pretty special, because it's made as a Gouda-style whole cheese or 'cheese wheel'? In 2021, Max&Bien was the very first cheese-maker to launch a vegan variant of the cheese wheel!
✓ 100% plant-based
✓ Contains vitamin B12
✓ 150 g
✓ Mouth-wateringly good
✓ Made in Amsterdam
Want to know more about
all the ingredients?
Check them out here!
Ingredients: Water, coconut oil, modified potato starch, tapioca, yeast, salt, lactic acid, onion powder, garlic powder, thyme, basil, rosemary, tarragon, sunflower lecithin, natural aromas, potassium sorbate, carotene, vitamin B12.
Try more recipes
featuring Herbs&Garlic
If you love entertaining and are a fan of vegan cheese,
check out all the appetizers featuring Herbs&Garlic cheese.