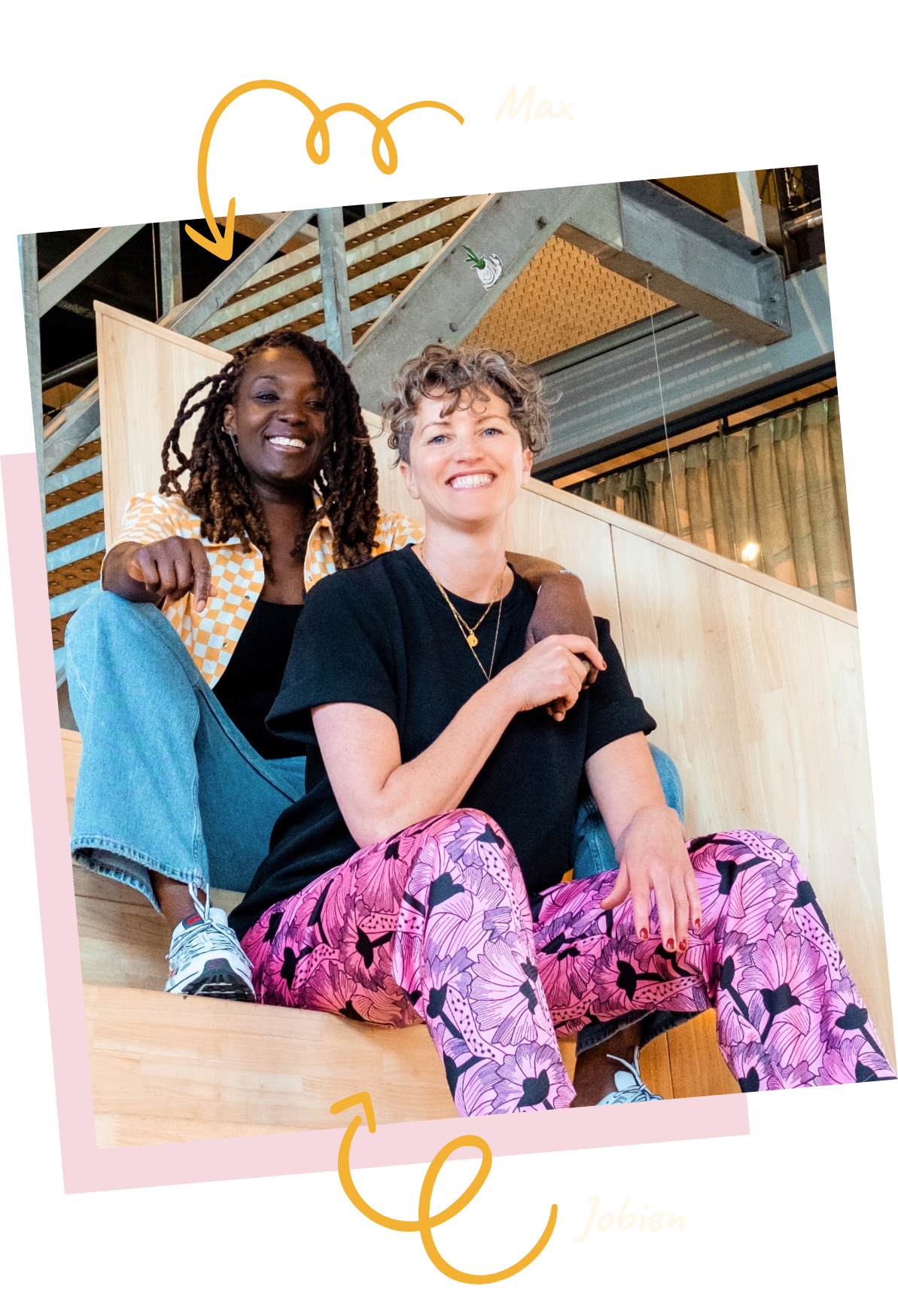 I'm Max,
co-founder and owner of Max&Bien
I've got more than 20 years of national and international experience as a culinary chef. As I gradually switched to a plant-based diet, I discovered a lack of truly delicious alternatives for cheese and dairy. Therefore, I set to work in the kitchen so that everyone (even fervent cheese-lovers) can enjoy eating plant-based products.
I'm Jobien,
co-founder and owner of Max&Bien
With a background in food science and health research, I combine my expertise with my passion for delicious local products to develop great-tasting vegan cheeses for Max&Bien. Together, Max and I are on a mission: to make irresistible plant-based cheeses that will steal the show on any cheese board!
How it all started…
We make cheeses that are fit for the future, but with a nod to the past. So how did it all start?
Exploring sustainable food choices

We love good food, but we also try to eat as sustainably as possible, so we scoured supermarkets and local markets looking for plant-based alternatives. However, we struggled to find any truly tasty plant-based cheese for on our cheese board.

Shaping the dream

There must be another way, we thought. So we set to work together in the kitchen on fermenting, ripening, combining flavours and sampling the end results. We also worked with traditional cheese-makers to learn the finer points of the craft from them. And guess what? It turned out that the traditional techniques work really well with plant-based ingredients too!

A gap in the market

In 2018 we sold our plant-based creations on the market for the first time, and they were a hit! People loved them and kept coming back for more. This confirmed what we'd suspected all along: there's strong demand for vegan cheeses for on the cheese board!

Plant-based cheese-making facility

The time had come for the next step in our adventure: we opened our plant-based cheese-making facility! We also developed new recipes for irresistible cheeses for the cheese board. The result: inspiring flavour combinations based on surprising ingredients.

A big success!

Our creations won popularity and prizes! Within the space of a year, we were declared the 'tastiest product of the year', voted the public's favourite during the Veggiebeurs event, and won an award for the best vegan business venture. We also launched the world's first plant-based Gouda-style cheese wheel!

Max&Bien on a mission

We passionately believe that plant-based cheese deserves a place on the cheese board. That's why we're continuously further refining our vegan cheeses and reinventing the (cheese!) wheel. Based on our three core values – culinary, nutritious and sustainable – we're always on the lookout for even better ingredients and techniques. That's how we create the optimal taste experience for on the cheese board.
Our mission?
To 'plantify' all the favourite (animal-based) specialty cheeses. Plant-based cheese will soon secure its rightful place on the cheese board – guaranteed!